https://www.yourconroenews.com/neighborhood/moco/news/article/Longtime-Conroe-halfway-house-for-men-faces-13860038.php#photo-17507370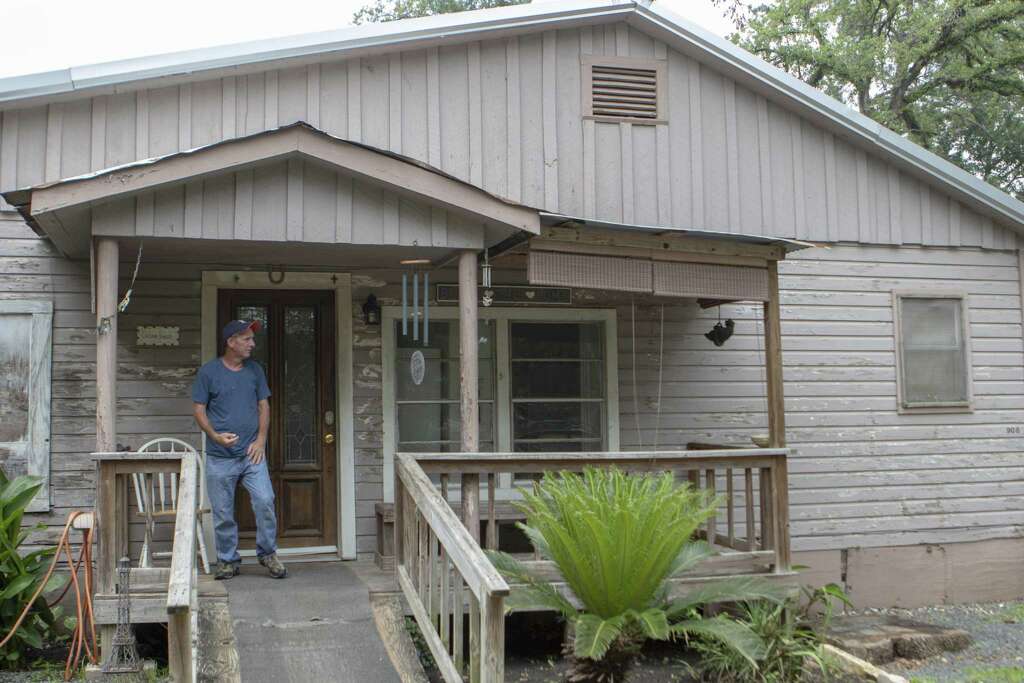 To help him recover from his alcohol and cocaine dependency, David Miller needs the Conroe halfway shelter Bonnie's House. With nowhere else to turn to, the 50-year-old may lose it all soon.
Serving men with addictions, the nonprofit's house has a July foreclosure looming.
Without Bonnie's House, "I would have no hope," Miller said. "I'm real afraid of displacement."
Though currently a ramshackle house, the shelter is a place for Miller to steer clear of relapse. It helps him avoid the temptations lurking in a corner store.
"I can have a thought, 'It sure would be nice,' and then all of a sudden the consequences," he said, snapping his fingers, "like that. Because when you're under the influence, you don't care. I think different when I'm sober (at Bonnie's House)."
A recovering alcoholic, Bonnie Quinn bought the house that sits on the 900 block of Silverdale Drive in the early '90s. She opened it as a shelter for alcoholics and drug abusers, housing a hundred or so until her death in 2004.
Miller first made it to Quinn's home in 2000. Quinn, who people describe as a diminutive woman whose red hair matched her spitfire personality, quickly sized Miller up and served him blunt advice on sobriety.
'She goes, 'Your feelings are going to get you drunk. Don't take things to heart' … She'd tell you how it is," Miller said, adding, "she was good people, very good people. She had a really good heart."
'Destitute and desperate'
Civil trial attorney Fritz Barnett, who sits on the nonprofit's board of directors, said the house's ownership is under the name of a son of Quinn's. Barnett said one night in September 2017, the heir went missing out of San Jacinto County.
The board had been paying a $300 renter's fee to him. Without an owner paying taxes, however, Barnett said the house is set for foreclosure trial July 25. The alternatives for the current five occupants of Bonnie's House are dire.
"They may find a place under a bridge, in the woods, behind Walmart, behind McDonald's. That's where they come from," Miller said. "When these guys get here, they're spent, they're burned up. They don't have anything."
Barnett, a 16-years sober recovering alcoholic himself, said alcohol dependents have a "notorious recovery rate," explaining a dependency on alcohol leads many to return to drinking after having expressed a want for sobriety, leaving them unwelcomed in most places.
"It makes loving them hard," Barnett said. "That's why people don't like them. Really, only alcoholics could understand that."
Miller, who makes an effort to go to two daily Alcoholics Anonymous meetings in Conroe, said a recent conversation with his sister demonstrates the misunderstanding among most people about alcohol and drug abuse.
If one has been sober for a long period of time, Miller explained most non-alcoholics wrongly assume they can altogether abandon their addiction. He relayed an anecdote about having been sober for nine months and on a date with a woman who was drinking a martini while he sipped on a soft drink.
"I ain't had a thought of drinking, and I start drinking that Coke and (think), "Man, this would be nice with some Jack Daniels.' Out of nowhere," Miller said. "That's an alcoholic."
Barring sex offenders or those merely looking to parole out, Bonnie's House is open to all men genuinely seeking help, Barnett explained.
"Most of them have just burned up everything, Their families are sick of them. They don't have any resources. Their 401K is gone," Barnett said. "They're destitute and desperate."
Miller, whose convictions are all for nonviolent offenses, said living with others struggling with the same addictions helps him on the path of sobriety. As well as does being around people like Barnett or other former residents who visit and have managed to not relapse.
"This place gives me the strength I need from other people that have sobriety," Miller said.
'Old, run-down house'
Aside from the threat of foreclosure, the house, whose exterior paneling is being chipped away at, is in urgent need of repairs. The ceiling in the main bedroom appears to be in the beginning stages of caving in. Miller said the sheet rock needs to be taken out, as the ceiling has been leaking since around 2013.
One bedroom is in complete disrepair, closed out. The main shared closet's ceiling is being consumed by black mold.
"This is an old, run-down house," Barnett said. "We've been slowly, step by step, trying to make a few little improvements here or there."
Some of the touch-ups include new flooring, repainted walls in the living room. Most significant is the installation of a tin roof. A carpenter by trade, Miller has extended his skills to doing plumbing work on the house. Recently, he put on a fresh coat of white paint in the house's common-area bathroom.
"Dressing it up. Make it look good," Miller said of the quick project.
The board of directors' goal was ultimately to demolish the house and build another in its place. Short term, the house would have its exterior repainted, its air conditioning and heating improved and its ceiling repaired.
"But we don't have money for either" option, Barnett said.
The house furniture, including a light brown couch and matching curtains, were bought with donations. A worn but sturdy-looking cafeteria-style coffee machine faces the glass and wood front door.
The board pays $500 to $600 a month in utilities. Earlier this year, the Entergy Charitable Foundation awarded Bonnie's House a $5,000 check to pay for the transportation of residents to and from job interviews, doctor visits or recovery support meetings.
Resolved to overcome
For Montgomery County Precinct 1 Justice of the Peace Wayne Mack, keeping Bonnie's House open is imperative.
"Bonnie's House is there for the folks that have been discarded by the system … (it) is there to provide people with a safe place to live," Mack said. "Their mission is to help people, give them that hand up."
Mack, who is taking on an advisory role with Bonnie's House, said it is one of the few programs in the area with nearly no preconditions or requirements in taking in the men who seek it out for help. He lauded the peer-to-peer counseling residents like Miller have come to rely on.
"It's our passion to continue Bonnie's work," Barnett said. "Our objective is to give these guys a chance to get sober and stay sober."
In the back corner of the house is an empty room waiting to be renovated, clutter currently fills space where two more tenants would presumably fit.
One item stands out — a 4-by-4 package in festive red wrapping paper. Miller has it set aside as a belated Christmas gift for his daughter whose mother recently died of breast cancer.
Between his current stay and his first time, Miller returned to Bonnie's House shortly before Bonnie Quinn died 15 years ago.
"I was younger," Miller said. "Maybe I wasn't ready."
But now he is resolved to overcome his addictions. And he needs to, as he started suffering a pain last year caused by his pancreas flaring up.
A doctor angrily scolded him about the drinking and cocaine use, warning him, "If you don't stop, you're going to die."
jose.gonzalez@chron.com
twitter.com/jrgzztx
Want to help?
Donations to the 501 (c)3 Bonnie's House organization are tax deductible.
They may be mailed care of Fritz Barnett, attorney at law, at 46 Mike Slott Rd., New Waverly, Texas 77358.
For more information, visit bonnieshouse.net.